14 Teams, standard scoring non-PPR. Had the second pick overall.
QB, 2RB, 2WR, 1RB/WR, 1TE, 1D/ST, K, 7 bench slots.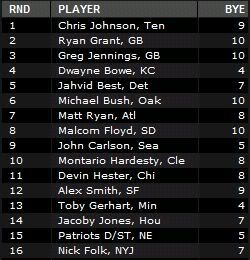 First impressions:
Wish I got a better backup behind Ryan.
Not sure about my WR's.
Grant/Jennings is kinda eh, but I couldn't pass up Grant that late.
Anything else you guys see?