I'm Kyle, changed my team name from the Cross Dressing Left Fielders to Ricky Vaughn and the Rockets. Thanks.
---
Posts: 21
Joined: Wed Jun 11, 2008 7:52 pm
Location: PHL
Looking forward to draft day.

Grey: I am team #24, A Man Named Brady, on your Commenter League Master Standings.
---
League:
RCL Coitus Division
Team:
Ormond Beach Hog Hunters

Damien
---
Sorry, thought I'd done this!

I'm CMiY - Coitus division - Crazy Men In Yellow
---
frankfso
Team Oregon Pranksters, RCL Coitus Division
---
---
Jimmy Rollins enters and flicks on a light.

His head is grabbed from behind and tucked into an armpit.
We track with him as he is rushed through the living room,
his arm holding the satchel flailing away from his body.
Going into the bedroom the outflung satchel catches a piece
of doorframe and wallboard and rips through it, leaving a
hole.

Rollins is propelled across the bedroom and on into a small
bathroom, the satchel once again taking away a piece of
doorframe. His head is plunged into the toilet. The paper
bag hugged to his chest explodes milk as it hits the toilet
rim and the satchel pulverizes tile as it crashes to the
floor.

VOICE: Where's the statistics, Rollins?

His head is plunged back into the toilet.

VOICE: Where's the statistics, Rollins?

The hands haul him out again, dripping and gasping.

VOICE: WHERE'S THE FUCKING STATISTICS, SHITHEAD?

ROLLINS: They're uh, they're down there somewhere. Lemme take another look.

His head is plunged back in.

VOICE: Don't fuck with us. If your draft position owes statistics to Wire Use Sofa Kingdom, that means you owe statistics to Wire Use Sofa Kingdom.

CHINESE MAN: Ever thus to deadbeats, Rollins.

He starts peeing on the rug.

Rollins' hand comes out of the toilet bowl with his
sunglasses.

ROLLINS: Oh, man. Don't do--

BLOND MAN: You see what happens? You see what happens, Rollins?

Rollins puts on his dripping sunglasses.

ROLLINS: Look, nobody calls me Rollins. You got the wrong guy. I'm J-Roll, man.

BLOND MAN: Your name is Rollins. You were drafted in the first round of the Coitus league.

ROLLINS: First round? Look, moron.

He holds up his hands.

ROLLINS: You see a fantays baseball trophy? Does this place look like I'm a fantasy baseball player? The toilet seat's down!

The blond man stoops to unzip the satchel. He pulls out a
bowling ball and examines it in the manner of a superstitious
native.

BLOND MAN: The fuck is this?

The Dude pats at his pockets, takes out a joint and lights
it.

ROLLINS: Obviously you're not a golfer.

The blond man drops the ball.

BLOND MAN: Woo?

The Chinese man is zipping his fly.

WOO: Yeah?

BLOND MAN: Wasn't this guy supposed to be a MVP?

WOO: Uh?

They both look around.

WOO: Fuck.

BLOND MAN: What do you think?

WOO: He looks like a fuckin' loser.

Rollins pulls his sunglasses down his nose with one finger
and peeks over them.

ROLLINS: Hey. At least I'm housebroken.

The two men look at each other. They turn to leave.

WOO: Fuckin' waste of time.

The blond man turns testily at the door.

BLOND MAN: Thanks a lot, asshole.
Last edited by
The Dude
on Thu May 14, 2009 12:07 pm, edited 2 times in total.
---
Ha!
Grey Albright
http://razzball.com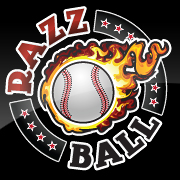 If you want me to look at your team, post the team. Don't post a link to another site where the team is.
Have you given me all the info I need to judge your team? The number of teams in the league is a good start for the big overall questions.
Is your league H2H? Roto?
I don't know who's on your waivers. Don't just ask me who you should pick up. Give me names to choose from.
If you only have one team, post your team in your signature with the league parameters.
I don't know every single matchup for next week, so if you want me to choose a player for the following week and you think the matchups are important, tell me who they're facing.
There's more than one player with the same last name? Then spell out who you're talking about.
Thanks!
---
Posts: 21
Joined: Wed Jun 11, 2008 7:52 pm
Location: PHL
Mabe the J-Roll "pep talk" worked? Wire Use Sofa slides up to #2 on our Weekly Top 12 Countdown: Coitus Edition. Next, you should give Big Papi an atomic wedgie, or the dreaded Rear Admiral.
---
---
Return to "Razzball Commenter Leagues"
Who is online
Users browsing this forum: Bing [Bot] and 3 guests